Andrea d'Amario, a renowned artist from the Clermont Ferrand School of Fine Arts (France), presents Mystic of the Optic, a series of contemplative installations using light, creating a moving space that surrounds viewers.

Fundación Telefónica Peru, through its art and technology programme Espacio Fundación Telefónica, presents 'Mystic of the Optic', installations by Andrea d'Amario, a famous French artist who explores her vision of the universe as a complex hologram. This work stems from questioning the uncertain way we view the world, visually interpreting reality as decoded information provided by our senses using light as the main component.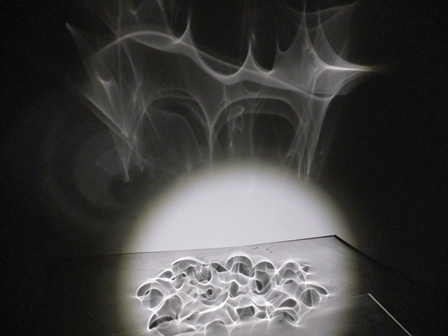 The exhibition features mechanical installations that, through lamps and prisms, refract light, deconstructing the different colours, shapes and optical elements that influence the viewers' perception and the surrounding space.
About Andrea d'Amario
Born on 30 July 1987 in Paris, France. At 17 she began a 4 year training course in carpentry in the French capital. At 21 she enrolled in the Clermont Ferrand School of Fine Arts, France. Five years later, she obtained her DNSEP Diploma (National Postgraduate Diploma in Visual Arts) and a Master's Degree, with special mention for the quality of her visual pieces.
In September 2013 she decided to move to Lima, Peru, with the aim of discovering a totally different country and culture. Since then she has participated in two collective exhibitions alongside the Detonador collective in Lima and a solo exhibition at the Alliance Française in Trujillo, Peru. Recently she presented two installations at the Festival de la Luz and the God in Colours exhibition (Lima -2014).