Employability
In the Department of Employability at Fundación Telefónica, we strive to give people access to the skills and competencies they need to further their employment opportunities in Europe and Latin America.
Through Conecta Empleo, our Digital Training and Entrepreneurship Programme, we want to connect society to the new reality of job market and train people in the new digital professions with the greatest demand today.
Our initiative contributes to the development of digital skills and crossover competencies and also encourages entrepreneurship to help those who have an idea to fulfil their dreams and achieve a better future.
More and more companies are struggling to define the digital profile they need and what aptitudes or skills these new professionals should perform. To meet this demand for technological professions in a constantly changing labour market, at Conecta Empleo we are launching in 2019 over a hundred online and face-to-face courses on the digital professions of the future.
The goal of this programme is based on expanding employment opportunities and reducing the gap between training today and the real needs of the job market in Europe and Latin America. It consists of in-person and online training pathways carried out in collaboration with the Chambers of Commerce of Spain (16-29-year-olds enrolled in the Youth Guarantee Plan) and public administrations (over 18).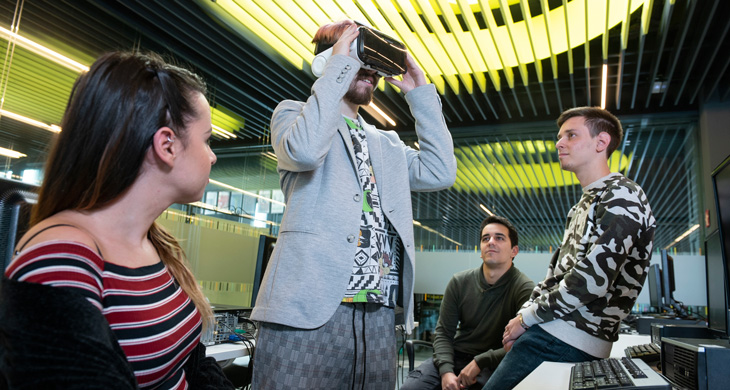 From cyber security experts, video game programmers and web developers to mobile application professionals and Big Data experts. These free classroom training courses take place over two, three or five months of training, and their students acquire technical training in programming technology and methodologies and soft skills such as teamwork, leadership, communication, creativity, and so on. In addition, on the Conecta Empleo website, participants can access all the documentation for the different subjects and practical exercises, extra resources for academic support (videos, e-books, literature, links, etc.).
Another clear commitment in 2019 is the increase in the number of MOOCs available. Between September 2018 and June 2019, Conecta Empleo has scheduled fifty editions with free online courses such as Growth Hacking, Introduction to Machine Learning, App Creation, Introduction to the Video Game Design, Job Skills and Digital Marketing Know-How. Specifically, there are fourteen online training paths in digital and cross-disciplinary competences, which are supervised and last 5 or 6 weeks and where each student sets their own pace and manages their time as they choose.
We want to ensure that digital transformation is understandable and accessible. For everyone. To do so, technology must be applied, but always with a people-oriented focus. In this way, efficiency is maximised, the areas covered in each social project are better identified, the social needs of each community are better understood and the projects most relevant to those who most need it are carried out.
In the case of the new employability, we are committed to Artificial Intelligence, having created an innovative interactive platform that maps the entire country and defines the most popular digital profiles in each region and the skills necessary to acquire them. Depending on the demand, the tool schedules "a la carte" training pathways and training courses aimed at reducing the jobless rate. What's more, it features a Virtual Career Counsellor, who assesses the user in their job search, recommending the online and face-to-face courses that will allow them to acquire the digital skills they need to become one of today's professionals.
Can you imagine a school with no classes, no teachers and no age limit, that's open 24/7 and free? It's here and it's called 42.
42Madrid is an innovative and ground-breaking concept which has been brought to Spain for the first time by the Fundación Telefónica. If you are over 18 years old and want to become a high-level professional, 42 is for you. You need no prior qualifications or training. You just need to have perseverance and be willing to "learn to learn". 42 is free and open 24 hours a day, 365 days a year, so you can work and learn at your own pace.