ProFuturo
This major digital education project for underprivileged children and adolescents, sponsored by Fundación Telefónica and Fundación Bancaria 'La Caixa', has already brought education to some two million children and teens in Latin America and Africa.
This educational and training programme, whose goal is to continue working to improve the lives of ten million children in the next five years, will be presented internationally this weekend at the interfaith meeting 'Thirst for Peace: religions and cultures in dialogue', which is expected to bring together some 3,000 people in the city of Assisi.
---
PROFUTURO   |   FOLLOW THE PRESENTATION IN ASSISI ONLINE   |    PRESS RELEASE
---
Before an audience of 400 religious leaders from all beliefs around the world, César Alierta, the President of the Telefónica Foundation, said that "education is the key to society's progress, the most powerful instrument for reducing inequality". These words were the prelude to the global presentation of ProFuturo, the great digital education project sponsored by the Telefónica Foundation and the "la Caixa" Banking Foundation, during the interreligious encounter "Thirst for Peace: dialogue between religions and cultures" held in the city of Asís (Italy).
The presentation will address issues related to peace, inequalities and the challenges facing present-day society. Education will be a key topic and the chairman of Fundación Telefónica, César Alierta, will have the opportunity to explain the goals and challenges of ProFuturo, thus extending the project to the largest religious congregation in the world.
This is the first time that a private initiative open to other institutions has been presented at a forum of this type, which makes it a very important milestone. ProFuturo continues and strengthens the historic commitment of Telefónica and Caixa to education through technology and innovation.
Its goal is to promote equal opportunities through high quality education for all using locally-deployed digital tools. According to United Nations figures, more than 50 million children around the world are not receiving proper schooling. ProFuturo extends the footprint of the impact achieved by Proniño and is transporting its digital solutions not only to Latin America but also to other countries in Sub-Saharan Africa and Asia. In Angola, specifically the province of Luena, there has been a pilot scheme in place since 2015 with very positive results. This project, which is being run in collaboration with the local Angolan bishopric, is being deployed in nine schools to the direct benefit of 60 teachers and 2,700 children, as well as illiterate adults.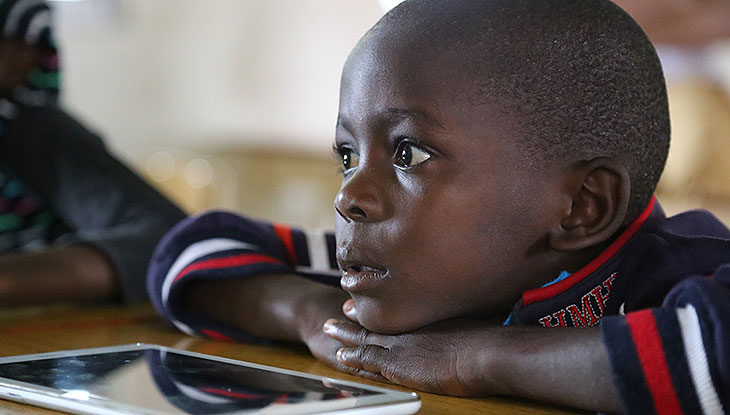 For each implementation, ProFuturo reaches agreements with the most important local agents in the field of international cooperation: private, public and third sector, and there are already conversations to extend the number of partners with the same concerns and objectives.
ProFuturo is based on a model that has already proved to be successful in several initiatives such as Proniño and Fundación Telefónica Classrooms, which have been rolled out in every Latin American country in which the company runs its teacher-training programme – with almost 30,000 teachers now trained – having an impact on some 610,000 children in more than one thousands schools.
Social Networks: Twitter Facebook Instagram