Fundación Telefónica Volunteering Awards
On its 20th anniversary, the Fundación Telefónica wishes to acknowledge and appreciate the value that volunteering contributes to society. That's why the Fundación Telefónica Volunteering Awards have been created, to raise awareness and encourage volunteering, as well being a catalyst for volunteering in Spain generally.
"In this world there are millions of anonymous people doing great work that must be recognised and valued. Helping to change the world deserves an award". On Tuesday, 4 December, coinciding with the eve of the International Volunteer Day, we held the awards ceremony of the Fundación Telefónica Volunteer Awards. The event took place in the Espacio Fundación Telefónica Auditorium, with the magician Jorge Blass as master of ceremonies. It was a magical night when we found out the names of the winners of each of the categories, who received a €5,000 award to reinvest in their projects.
---
|     MEET THE WINNERS     |     THE 15 FINALIST     |
---
The event was also attended by some of the panel of judges, such as Anne Igartiburu, TV presenter; Teresa Perales, Paralympic swimmer and the Fundación Telefónica Ambassador; Luciano Poyato, President of the Volunteer Platform in Spain and President of the Plataforma del Tercer Sector; and Vicente del Bosque, former coach of Spain's national football team. In addition, we welcomed César Alierta, Chairman of Fundación Telefónica and Chairman of the Panel of Judges; and José María Sanz-Magallón, Managing Director of Fundación Telefónica and Secretary to the panel.
All had gathered on Monday, 19 November to select the three project finalists in each category from the 339 nominations submitted. All the latest news on the awards can be followed on the hashtag #PremiosVoluntariado.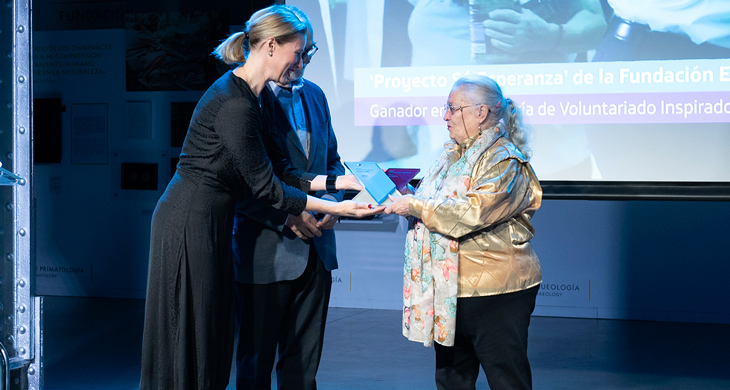 EDUCATION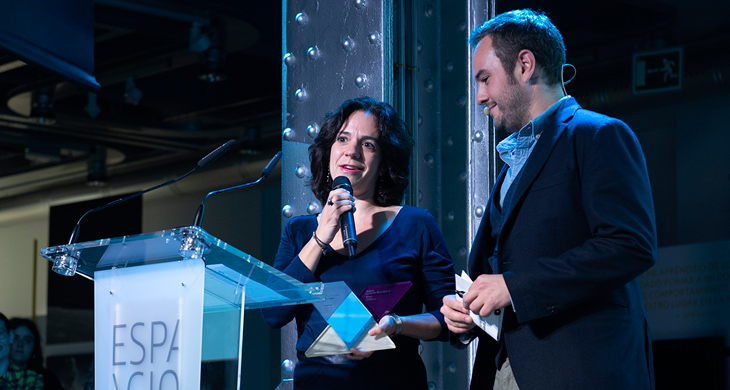 Inspira Steam
This is a project that promotes scientific-technological vocations amongst girls. Based on awareness and orientation activities, it is provided by women professionals who volunteer their time to primary school students.
"Thank you for this award and thanks to all those women who volunteer and inspire girls in science and technology".

CHARITIES
Down Madrid
This project provides the necessary support so that people with Down's syndrome or other intellectual disabilities can carry out volunteer activities in third sector bodies, thus promoting their integration and commitment to society.
"We have received the award with great enthusiasm. I hope to encourage people to do volunteer work because it is wonderful and fun".
COMMUNICATION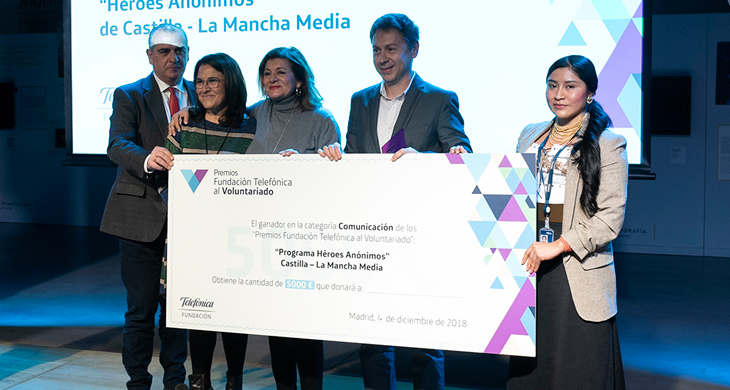 Héroes anónimos
(Unsung Heroes)
This is a programme of RTV Castilla-La Mancha that portrays the many people who make an effort every day to try and help others.
"In Héroes Anónimos (Unsung Heroes) we place our focus on the human being, on those unsung heroes who try, through their daily work and efforts, to change the world for the better".
CORPORATE VOLUNTEERING
Infraestructuras sociales
(Social infrastructures)
An initiative that improves and extends access to water and sanitation in vulnerable communities across Africa and Latin America, providing funds and technical support through corporate volunteering.
"This award goes to all our volunteers who travel to local communities and offer their professional skills to the development of drinking water projects in vulnerable areas".