Art
Title
Highlights. The Telefónica Collection
Author
Fundación Telefónica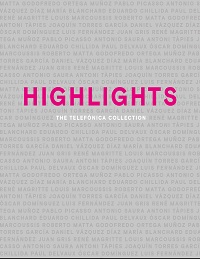 Description
The Telefónica Collection was born in the 1980s with the vocation to serve society. With the aim of promoting and disseminating contemporary art, the Collection was oriented towards Spanish creators and selection criteria were established: key artists in the history of art whose work was not suciently represented in our museums, artists who did not have the public recognition they deserved and living creators of international prestige whose work was to be kept in our country.
As a result, the Collection was built on a very solid foundation, with artists such as Pablo Picasso, Eduardo Chillida, Luis Fernández, Juan Gris and Antoni Tàpies.
Accordingly, we present Highlights. The Telefónica Collection, which, as the title suggests, brings together pieces that deserve to be highlighted for different reasons. It includes some widely known works, but also others that will be a pleasant discovery for many readers.