We promote the training of girls, young women and women in the world of technology and make their importance in the sector visible.
The second Tuesday of October is #AdaLovelaceDay, the international Ada Lovelace's day (1815-1852), considered the first programmer in history and a symbol of the inclusion of women in the STEM sector. To commemorate this date, we present you some of the initiatives we are launching this month from Fundación Telefónica to support and promote digitalisation among women.

Since Ada Lovelace wrote the first computer program, science, technology, mathematics and engineering – known as STEM careers – have gradually moved away from being a male-only field. Although progress has been made towards balance, some prejudices still persist and closing the gender gap in these disciplines remains a challenge.
For this reason, at Fundación Telefónica one of our objectives is to reduce these stereotypes and encourage all of them to pursue their digital vocation. Below, we present 4 of our initiatives aimed at stimulating scientific and technological vocations and encouraging them to continue in their development.
42, women programmers to power
At Fundación Telefónica we implement projects to increase diversity in certain vocations. This is the case of professions such as programming.
Throughout this year, our programming campuses in Urduliz, Barcelona, Malaga and Madrid have held Piscine Discovery Women's Edition. More than 700 young and adult women, eager to learn the ins and outs of programming, have been able to learn languages such as HTML, CSS or Javascript.
5 days in which these technology lovers have also been trained in other technical knowledge related to web development, as well as perfecting a series of transversal skills. All this with the innovative methodology of 42.
Do you want to be the next Ada Lovelace? We invite you to experience what 42 is all about at the next Piscine Discovery Women Edition. It takes place from 24 to 28 October and you can book your place here.
You Program, #TheyProgram
As part of the Day of the Programmer, we have to mention another key initiative for future generations of female programmers. On 6 October, together with Womenalia, we held the #TheyProgram event at Campus 42 in Madrid.
The event had everything for the new Ada Lovelace: a keynote talk by Idoia Salazar, speed mentoring sessions, guided tours of the campus and even a bit of networking. All with the aim of spending a day of training and meeting programmers and pool girls.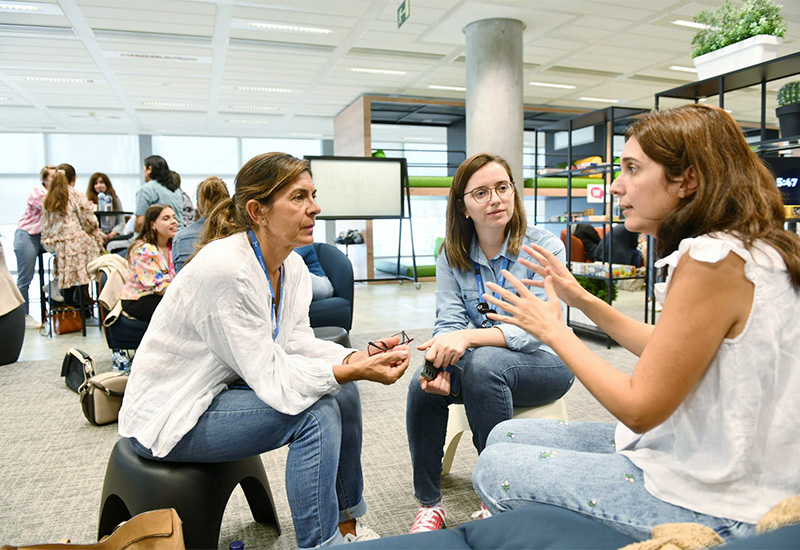 Firmly committed to the promotion of digital skills training
As we have already mentioned, at Fundación Telefónica our entire team works in all the areas in which we are present: education, solidarity, culture, dissemination, training, etc… to ensure that technology is a lever to ensure that no one is left behind.
With this purpose of reducing the gaps, whatever they may be, we ally ourselves and work together with other entities and institutions to achieve this. For this reason, and with a focus on female empowerment, we are part of the #STEAMAlliance, an initiative that aims to promote scientific and technological vocations in girls and young women.
We want the 7% of girls who see themselves in technical professions in the near future, according to the report 'The ABC of Gender Equality in Education', by the OECD, to grow notably in the near future.
Telefónica Volunteering: breaking vulnerability in the digital age
Although we have launched initiatives where women are at the centre of the programme, we don't want anyone to be left behind on the road to digitalisation.
On the occasion of our Telefónica Digital Volunteering Week, we are promoting face-to-face activities on 17 and 20 October, as well as virtual proposals. The aim is to promote fair, sustainable and inclusive digitalisation.
In this initiative, we are not only looking for women, but also for training for vulnerable groups: children and young people in vulnerable situations, as well as the elderly and women at risk of exclusion.
Algorithms: free of bias?
Although we do not see them, algorithms are as present in our daily lives as coffee or milk. Algorithms are constantly making decisions. They are all around us, creating shapes and organising the world based on comparable and standardisable patterns.
We take it for granted that algorithms are always right, but are we humans still at the centre of these decisions? Are these patterns free of bias? The exhibition 'Codes and Algorithms. Sense in a Calculated World' shows us this phenomenon and seeks to generate questions for reflection.
The exhibition, curated by the artist and teacher Manuela Naveau, brings us closer to this debate at Espacio Fundación Telefónica from October, 19th. Of course
Ada Lovelace has a prominent place in this exhibition, which you can visit until April, 19th 2023.