For the second year in a row, the programming campuses that prepare you for digital careers have been ranked among the top 10 most innovative universities in the world, ahead of prestigious institutions such as Princeton and Harvard. In addition, they reaffirmed their first position in ethical values, according to the Real Impact World Universities ranking.

For the second consecutive year, 42, the free programming campus, is in the TOP 10 of the world's most innovative universities, ahead of prestigious institutions such as Princeton, Harvard, Oxford and Cambridge, according to the WURI ranking.
But there is more: 42 also reaffirms its first position in ethical values, for what it represents and transmits, ahead of such relevant and recognised institutions as Stanford, Yale, Harvard and University College London, according to the ranking of World Universities with Real Impact.
In less than ten years, project 42, which commenced in Paris in 2013, has become an international benchmark in the free training of the profiles of the future in key digital skills demanded by the labour market: big data, cybersecurity, blockchain, video game development and artificial intelligence.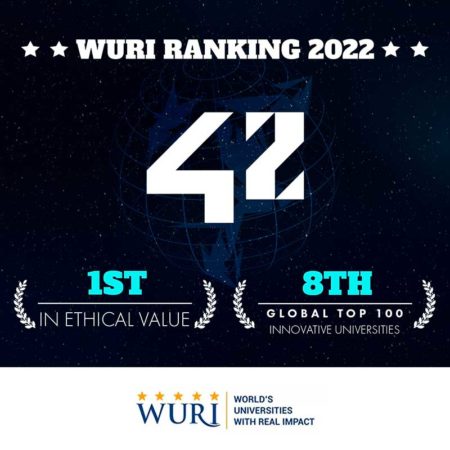 In Spain, Project 42 is promoted by our institution together with public-private partnerships. There are currently four campus 42s in Madrid, Barcelona, Urduliz-Bizkaia and Malaga. These centres are part of the 'Network 42', with 42 campuses in 26 countries and more than 15,000 students.
42, much more than a campus for learning programming
42 is a philosophy, a revolution that breaks all the paradigms of education. At 42, students are the protagonists of their own learning (step by step and free of charge).
What makes the 42 programming campuses model different and disruptive?
🖥 It's a learning method that is completely different from the traditional educational model.
🖥 They are programming campuses that open the door to peer-to-peer training, without teachers, books or classes.
🖥 It is a completely free model, open to people over 18 years of age and with no prior knowledge or qualifications.
🖥 It is a student-oriented model in both digital skills, which are the most in demand today, and in those known as 'soft skills': resilience and adaptation to change, frustration tolerance, creativity and, above all, teamwork, among many others.
🖥 100% employability. An average of 8 job offers during the training.
Our 42 campuses in Madrid, Barcelona, Málaga and Urduliz offer the necessary tools to cope with all the technological changes that anyone will face throughout their career. At 42, you "learn to learn" by developing the ability to adapt and find solutions to problems based on current knowledge and tools.
Thanks to self-learning and colleagues. Its gamified methodology allows students to pass levels and acquire the technical and transversal skills that companies are demanding.
Not only do you learn programming, cyber security, design, blockchain, etc, but also communication, leadership, frustration tolerance, teamwork…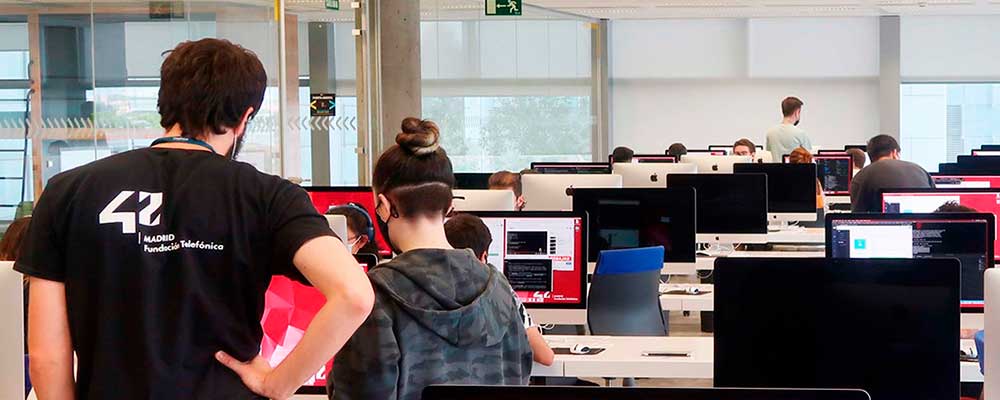 Learn how to learn at the 42 programming campuses
Do you want to immerse yourself in code and feel like a programmer? It easy and free of charge. Take a look at the dates of the next pools you can experience first hand. No experience necessary, it's open to everyone!
At 42 Madrid, the next pools will be on 4 July and 8 August 2022:
SIGN UP FOR THE 42 MADRID POOL
At the 42 Urduliz campus in Bizkaia, the next ones will take place on 27 June and 10 October.
REGISTER AT THE 42 URDULIZ POOL (BIZKAIA)
At 42 Barcelona, on 4 July and on 8 August.
SIGN UP FOR THE 42 BARCELONA POOL
The 42 Málaga pool has places available for: 4 July, 8 August and 17 October.