The 'STEM Talent Girl' programme, by ASTI Talent & Tech Foundation in collaboration with Fundación Telefónica, aims to encourage women's interest in this kind of careers and to fight stereotypes.
Computational thinking, introduction to electronics or game programming have been some of the technologies that the participants have been able to learn about through practical challenges.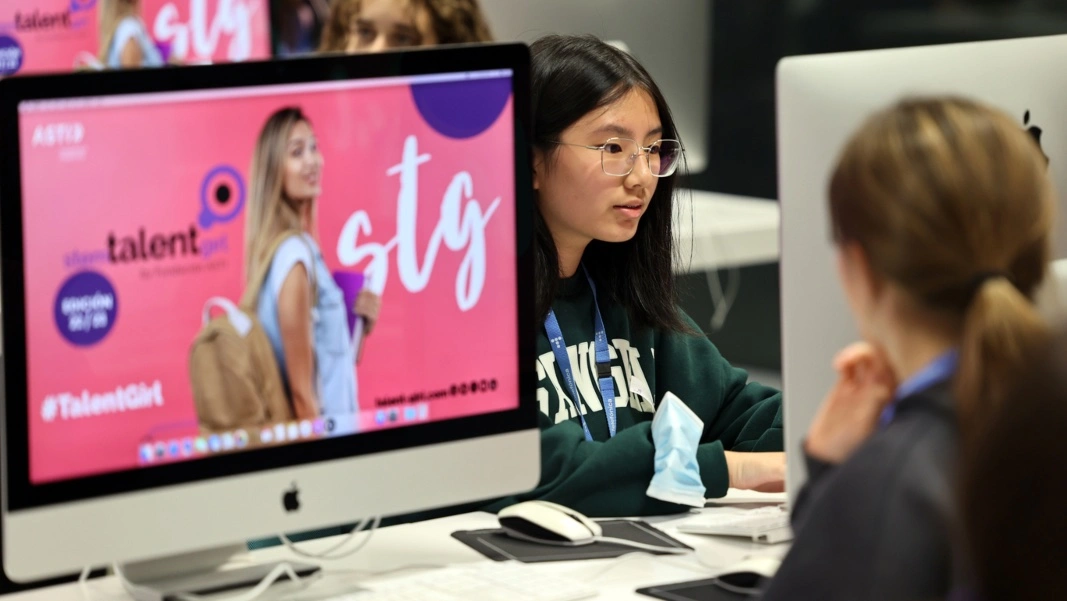 At the end of 2022, Fundación Telefónica joined forces with ASTI Talent & Tech Foundation's 'STEM Talent Girl' programme to encourage a vocation for this type of career in teenagers and women up to 24 years of age, students from schools and universities in the Community of Madrid.
So far this year, the 42 Madrid programming campus has become the neuralgic centre of all the activities developed; achieving that 230 girls between 14 and 24 years old met female referents and participated in workshops that allowed them to experience, in first person, the potential of technology as a way to develop their professional profiles.
In the six sessions held once a month at the 42 Madrid programming campus, work has been done on computational thinking, introduction to electronics, game programming and artificial intelligence applied through algorithm training or data science. The dynamics have been developed through a methodology based on challenges, practical and motivating.
With a focus on play and discovery, all participants have developed and strengthened key skills for their professional and personal future, such as teamwork, creativity, flexibility and time management.
The nearly 230 girls and young women have attended talks given by leading women who work professionally in STEM areas in organisations as diverse as the European Space Agency and the Spanish National Cancer Research Centre (CNIO). In addition to receiving support from mentors from Telefónica's #GirlsLoveTech programme.
 42's commitment to reduce the gender gap in digital professionals
Fundación Telefónica reaffirms its commitment to digital inclusion, contributing to minimising the gender gap and promoting female empowerment through digital training, so that all people can be active agents of social transformation.
The 42 programming campuses work to promote digital skills, STEAM disciplines, and to combat gender stereotypes associated with certain professions in the technological environment, in order to promote female talent from the campus.
For this reason, Campus 42 has different initiatives in place to promote the presence of women. On the one hand, 30% of places are reserved for women in the swimming pools, the on-site entrance exams, and specific training courses are held for them, such as the Piscine Discovery Web Women's Edition or Women's Week, among others.
In addition, as in the case of STEM Talent Girl, it works together with other entities, organisations and foundations such as Women4Cyber Spain (W4C Spain), Womenalia and Code Women to make visible and promote the role of women in the technological environment.