Under the heading 'Schools and Youth', the focus on Friday 5th October was on how technology can multiply learning in schools: the day addressed the possibilities of personalisation, languages, artificial intelligence and robotics, but also creativity and the development of students' skills. You can see the summary of the end of the conference in the following video:
---
"It's said that technology will replace the human head. I don't think that's going to happen; it can't! Technology is for helping us, not for replacing us". Toni Nadal, tennis coach and trainer of his nephew @rafaelnadal for many years, opened the third and last day of #enlighted. "Toni Nadal has always been an atypical coach, giving much less importance to the perfect swing than character", said about him José María Sanz Magallón, Chief Executive of Fundación Telefónica.
"A pretext has never won a match". Toni Nadal
In his speech 'The importance of grit in education', the coach stressed the importance of reinforcing character and skills such as perseverance, will power, and self-confidence: "I always tried to make Rafael Nadal feel the need to improve, and for that I think it's essential to have confidence in what you're doing", he said.
""We have to re-imagine schools". Ken Robinson
And then Sir Ken Robinson, expert in education and creativity, had his moment. The author of 'The Element', he began his speech 'Revolutionising education from the ground up' with a critique of educational systems based on competition.
"La educación es para las personas y hay que alentarlas a aprender. Tenemos que cambiar la escuela, no a los niños". Termina la inspiradora conferencia de @SirKenRobinson ¡Fantástica! #EnlightED pic.twitter.com/qR6EBxQaOP

— enlightED (@enlight_ED) October 5, 2018
Robinson defended the need to not lose curiosity "because it's what drives human beings", as well as the diversity of intelligences, talent, and skills. "If we want our communities and our children to flourish, we have to think of education as a way of promoting diversity and not conformity", he concluded.
"We work to make a better world". César Alierta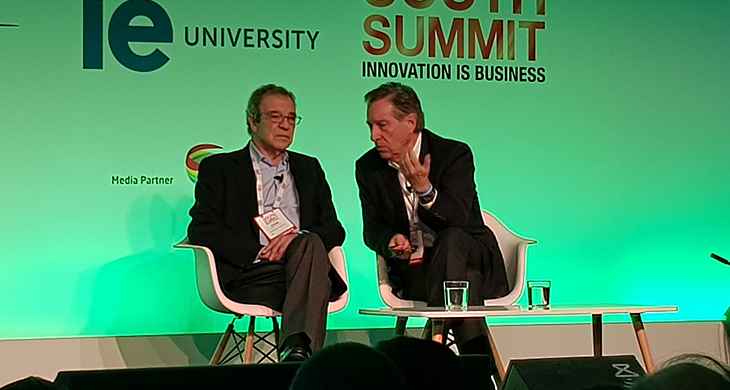 Another of the highlights of the day was the conversation that César Alierta, Chairman of Fundación Telefónica and Profuturo, had with journalist Iñaki Gabilondo. Alierta stressed the need to involve teachers in digital learning because "children learn before teachers. Our efforts", he explained, "are focused on the digital education of both".
Alierta also underlined the need to involve businesses and governments in initiatives, such as ProFuturo, a global project sponsored by La Caixa and Fundación Telefónica hat is committed to "education so that a child in a remote part of Africa has the same possibilities as a child in New York", explained the Chairman of Fundación Telefónica.
Skills for life: effort, passion, resilience, difference
The final session of these three days rethinking education at EnlightED was 'Life Skills Every Student Should Learn', a conversation between teacher David Calle (Global Teacher Prize), Pablo Aristizabal, founder of GEN 21st entrepreneur Centre Argentina, and Ferran Adrià, chef and creator of an innovative method in the kitchen that the Fundación Telefónica transferred to education with Creative Schools.
In a chat moderated by Almudena Bermejo, Director of the Fundación Telefónica Digital Culture Department, the speakers highlighted some of the skills needed to face the future. Effort, passion, resilience, difference, courage, learning to leave our comfort zones; in other words, "not being afraid to leave the beaten track", as David Calle explained.
Enlighted ended with Ferran Adrià highlighting happiness as the lodestar of our lives: "There are many ways to be happy", he said. For his part, Pablo Aristizabal encouraged us to "educate minds, not knowledge", and David Calle to "teach that failing is not bad".