Iberia, 70 Years in Latin America
The exhibition "Iberia, 70 Years in Latin America" brings together a selection of images from the news agency EFE taken in the 70 years since the Spanish airline operated the first commercial flight between Europe and South America.


March 10 - May 8, 2016
Espacio Fundación Telefónica. Santiago. Chile
Iberia launched this commercial route on 15 October 1946 and, in the words of company executives, the journey was truly an experience, not only because of the duration of the trip (more than 36 hours with stopovers) but because the Atlantic crossing was of critical importance and necessitated special precautions such as calculating the weight of everything travelling in the aircraft, including the checked luggage, hand baggage and even the passengers themselves.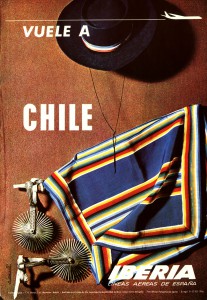 Anecdotes about those times can be seen by visitors to the exhibition of 43 photographs in Espacio Fundación Telefónica, showing the cultural, social, political and economic links which air transport between countries on both sides of the ocean have helped to establish.
The evolution of the aircraft, the dignitaries and celebrities who flew in those days, and a selection of interesting memories help shape our view of the company which, since it was founded in 1929, has carried almost 900 million passengers around the world.
With 130 destinations and a fleet of 136 aircraft, which complete around 600 flights daily, Iberia chose Chile as the starting point to mark this anniversary and announce details of its future plans, including the renewal of its fleet, the launch of new routes and entry into new markets.
The EFE exhibition starts with the first Iberia flight to Chile in 1961. Until 1998, when the airline began a direct service, flights used to stop over in Buenos Aires, Lima or La Paz.
The images include such highlights as the flights taken by Patricio Aylwin, film director Orson Welles, singer Frank Sinatra, artist Salvador Dali and the return of the Spanish team which won the Football World Cup in South Africa in 2010, amongst many others.