Last 18 February Fundación Telefónica and Centro Cultural BOD hosted a concert to celebrate the upcoming opening of the "Electroestética_ambiental.ve" video and electronic arts exhibition, which will open to the public on 27 February.
The concert took place in the concert hall at Centro Cultural BOD and featured performances by Venezuelan performers of the likes of Los Sinvergüenzas, Miguel Noya and Continuo de Caracas, who will share the stage with the DJ Andrea Ludovic and vocalist Gustavo Castillo, with musical direction by the master Rubén Riera.
Over an hour and a half, the audience enjoyed an interesting blend of traditional Venezuelan, Baroque and electronic music, which was accompanied by a projection of images drawing inspiration from environmental protection, the main theme of the concert.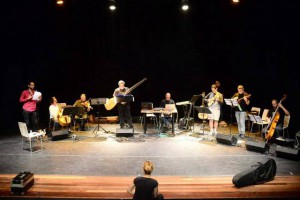 The concert was the final phase of a VJ training workshop that Fundación Telefónica offered for free and was directed by Adina Izarra, PhD in Composition from the University of York, who is also responsible for the musical direction of the concert.
Sixteen amateur video and music artists were given the opportunity to learn how to use IT programmes that will serve them as basic tools to become VJs in the future. Furthermore, they were given the opportunity to showcase their skills by performing live with the images which were projected at the concert.
"'Electroestética_ambiental.ve' is a multidisciplinary and comprehensive Fundación Telefónica project that aims to provoke reflection on environmental protection from an aesthetic perspective through a concert and video and electronic art exhibition, in addition to the VJ training workshop. "It's an initiative aiming to bring digital culture to the people of Venezuela and encouraging innovation and creativity", said Valentina Ríos, General Manager of Fundación Telefónica.