VIDA Contest
LIFE International Art and Artificial Life Contest was founded in 1999 with the aim of supporting the artistic research of artificial life and encourage production in this area.
New stage for the International Competition Art and Artificial Life. The international contest of artistic creation organized by Fundación Telefónica opens a period that ends the contest -such as has been developed until now to make way for new ways to support and enhance the avant-garde art, science and technology.
Life history is largely the story of the evolution of art and new media. Your specific field is artificial life, a broad and permeable concept emerged in the 80s, which generates and accommodates many interesting creative proposals that bring together art and science technology.
The more than 2000 works submitted in its 16 editions are only part of the legacy of a daring and visionary award, a contest that has also been the launch pad today consecrated artists like Ken Rinaldo and Eduardo Kac.
Since its inception in 1999 -from the hand of artists Rafael Lozano-Hemmer and Susie Ramsay and Fundación Telefónica – VIDA has aimed, among others, detect and to value the work of emerging artists in the field of art and new means.
New stage in the Espacio Fundación Telefónica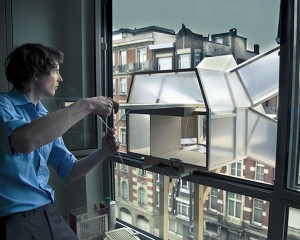 Some of these artists are precisely the stars of this new stage. The LIFE contest ends but not the commitment of Fundación Telefónica with the pioneering art and new formats. During the 16 editions of the prize ¬- led first by Lozano-Hemmer, then by Daniel Canogar and in its final stage, by Monica Bello – research on the many ways to create and reflect on life has materialized through avatars, computer viruses, simulations, cellular automata and interactive installations.
The four sites Espacio Fundación Telefónica (Madrid, Buenos Aires, Lima and Santiago de Chile) are the main stages of this new phase of supporting art and new media. A programming aligned with formats and topics addressed by VIDA an offer workshops will add tuned with the latest trends in avant-garde art exhibitions.
The contest ends but the legacy of LIFE is open to all. The website of the event is active for all those who wish to consult the evolution of a prize is international reference in the field of new media art.
More information:
VIDA's WEB